Bookings/Enquiries:
02 4733 5161,
INT:

+61 2 4733 5161
Emergency After Hours:
0408 616 115,
INT:

+61 408 616 115
Email Us:
minibus@penrithminibus.com.au
While our vehicles operate 24 hours/7 days,
our office hours are 9am till 5pm Monday to Friday

FAQ
Frequently Asked Questions
1) What happens if my plane arrives early or late?
We check all flight arrival times regularly, and adjust our arrival time to correspond with your landing time in most circumstances, no matter whether you arrive late or early, provided we have a correct flight number we will have a bus waiting in the holding area for you. If your flight has been cancelled and you have been given a new flight number, please let us know. Flight arrival information is taken from Air Traffic Control, which do not operate 24 hours. These details are updated 2-4 hours out from arrival, so if you arrive at the airport to find your boarding/flight has been delayed, please let us know. This helps us arrange for a bus to be there at your new arrival time so there is minimal waiting for you. The best way to alert us is via our facebook page or a text message or call to 0408 616-115
When flying International (or outside our office hours). Please take advantage of the free Wi-Fi at most airports and send us a message via our Facebook page to let us know if your flight is delayed, cancelled or diverted. These messages go straight to our emergency after hours' phone and we can access them outside office hours. If you do not have Facebook, please call or text 0408 616-115. This number you will find on your confirmation email. As Sydney airport is not a 24-hour airport for passengers, we will not be able to access your new flight arrival time until the airport reopens.
2) How much time do I have to meet the driver on my airport transfer booking?
We provide a professional service for Domestic and International arrivals. For International arrivals we understand the time required for customs clearance and allow 1-1/2 hours. If you cannot find your driver, call us, as he will not be far away, or you may be in the wrong area and we will direct you to our driver. Our drivers will try to contact you, and try all other means of contact, before we would consider you a no-show and the bus will then depart the airport. You will never be left behind, but in extreme circumstances you may have to grab a coffee and wait a short time for the next bus to arrive. Please ensure your phone is fully charged for your arrival and turn it on as soon as you exit the customs area.
3) Where do I meet my driver for pick-up?
Domestic – Our driver will meet you approx. 30 mins after your flight has landed (to allow your plane to taxi to the terminal & for your luggage to start the unloading process). Once you have your baggage proceed to the Outside meeting point shown on the map supplied to you via your booking confirmation. Please check your phone for a text message from us with your driver's direct phone number. If you require assistance you can pre-arrange for the driver to meet you inside at the baggage carousel. Once the driver has made contact with you they will come around from the holding area and meet you.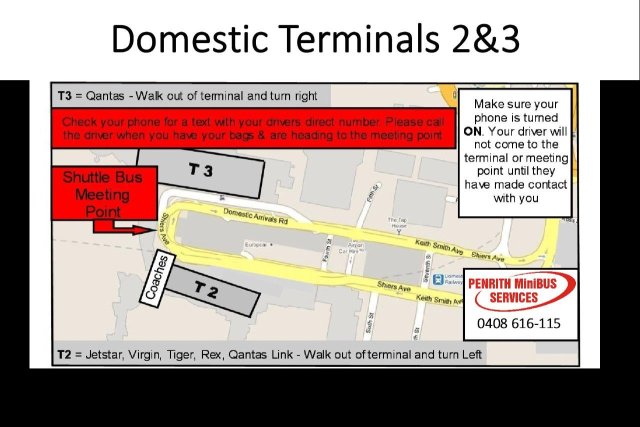 International – Our driver will be waiting in a holding area until you have cleared customs. and made contact. We allow 1 to 1-1/2 hours for this. Once you have proceeded to the meeting area shown on the map. Call your driver on the number that has been text to you, or call our afterhours number and we will instruct the driver to leave the holding area and come to the meeting point, to collect you and take you to your door. Check your mobile phone for a text with your drivers direct phone number. This may not come through until you are well away from the customs area. If your message hasn't come through after you have turned your phone off and back on call us on 0408 616-115 and we will get in contact with your driver for you.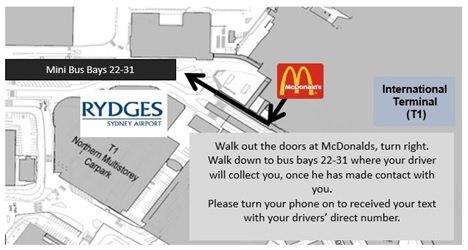 4) What is your Cancellation Policy?
Penrith Mini Bus Services request that booking cancellations must be received by email or text. No less than 48 hours prior to scheduled pick-up time for airport & Cruise transfers, or full fare is payable via non-refundable credit card debit. For airport or Cruise Transfer bookings made within 48 hours the fare must be paid at the time of booking via non-refundable credit card debit. For bus charters we require 14 days' notice or 50% fare is payable. For Coach bookings, 21 days' notice is required or full fare is payable via non-refundable credit card debit using the card to hold the booking.
5) How far in advance should I place my booking?
Availability changes daily and we suggest you place your booking as soon as you have firm travel dates and times. This gives us time to have your confirmation typed and emailed to you. For you to carry with you. We require at least 24-48 hours for all travel during the coming weekend, Monday or public holiday.
6) When is my Credit Card charged?
For Charters: Your Credit Card details will be held as security on your booking and act as the bond. If you have arranged with the office for your card to be debited, it will be done 3 working days prior to travel. Otherwise cash is payable to the driver on the day. All credit cards are charged a surcharge to cover admin processing costs. Our vehicles do not have EFTPOS. You must pay cash to the driver or give the office 48 hours' notice that you would like to pay by credit card, which is then processed by our secure virtual terminal, over the phone in our office, with a 2.0% Admin processing fee applicable.
For Airport Transfers: Your Credit Card details will be held to confirm your booking. Your card will be debited 1-3 working days prior to travel, if requested. Alternatively, the return fare is payable in cash and payable on the day of travel. Fares can no longer be paid individually and must be paid on the forward journey. If you only pay the one way to the driver on the way in, your return booking will be automatically cancelled. Our vehicles do not have EFTPOS. You must give the office 48 hours' notice that you would like to pay by credit card, which is then processed by our secure virtual terminal, over the phone in our office, with a 2.0% Admin processing fee applicable.
7) Which route do your drivers travel?
We travel on the M4, Homebush Bay Drive/King Georges Road and the M5. This route has 3 lanes all the way. There is also plenty of opportunities to divert around any accidents they we may come across. As an option you may wish to choose the M7/M5, this will incur an additional $5.00 or $15.00 for larger buses, one way, fee on top of our normal quoted price to cover additional tolls. Please advise us at the time of making your booking if you would prefer the M7 option. You can choose to use other toll roads also, and the applicable fees payable in cash to the driver.
8) Why should I choose your company over other companies?
After receiving your quotes and information, there are many factors deciding which company to hire. With us you will receive a confirmation of your booking with all the details you need to know. For return pickups you will receive a text message with your driver's direct phone number to make your pick up fuss free. We do not stop and take you all over Sydney picking up lots of different passengers, making it the drive from hell. We offer a professional and personalised service to our customers. We have 9+ buses servicing the terminals, so if your flight changes, we will have plenty of buses that can accommodate you. Other smaller companies cannot offer this and leave you at the airport for hours. Some companies might be cheaper, but will they give you premium service, with professional drivers in a modern fleet??
Below is just the first 10 reasons why you should choose Penrith Mini bus Services
RELIABLE
Door to door service
Vehicles tracked via Satellite. Your drivers direct number
Air-conditioned & seat belted vehicles
Comfortable, and reliable modern vehicles
Professional, experienced and friendly drivers. (all fully authorised)
Flexibility with your times
Accredited company with the Ministry of Transport NSW
Clean & non-smoking vehicles
All our drivers are there to help in any way they can, to make your journey with us enjoyable.